I've always daydreamed about medieval castles and valiant knights, even a few damsels in distress. Fortunately when I traveled overseas for business several years ago I had time over the weekends to sight see.
I didn't have to go overseas though, I could go to Washington Heights, on the northern tip of Manhattan, New York City and visit the Cloisters. The Cloisters and its gardens is rises proudly on the shores of the Hudson River.
Interested in medieval art,
George Grey Barnard
, a sculptor and architect, gathered discarded fragments of medieval architecture from French villages before World War I. He established this collection in a church-like brick building near his home in Washington Heights, Manhattan in New York City. The collection outgrew its home.
The building and collection were purchased by
John D. Rockefeller Jr.
in 1925. Rockefeller, also an avid art collector, added to the collection. His most notable addition was the Flemish tapestries depicting
The Hunt of the Unicorn
.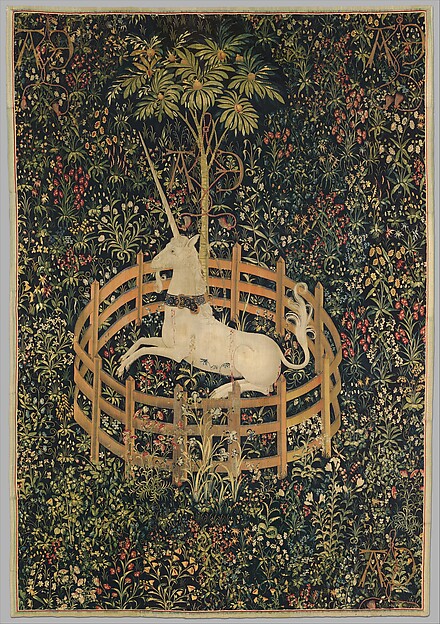 In addition, Rockefeller funded the acquisition of nearly 67 acres that the Cloisters sits on today, north of Barnard's original building, as well as an additional 700 acres across the Hudson River in New Jersey to ensure the view. Incorporating the various cloisters from Europe,
Charles Collens
went on to design The Cloisters we see today. The Cloisters is part of the Metropolitan Museum of Art.
The curators made every attempt to maintain the medieval appearance. The land surrounding the Cloisters has been planted according to horticultural information found in medieval treatises and poetry, garden documents and herbals. The Cloisters houses a wonderful collection of over five thousand works of art from medieval Europe, dating from the ninth to the sixteenth century. Works include tapestries, stained-glass windows, column capitals, exquisite illuminated manuscripts, metalwork, enamels, and ivories all set in this unique context.
On a warm summer day you can find the grounds of The Cloister filled with sight seers and picnickers. While it may not be exactly the same a walking through the medieval buildings in Europe, it's a close second!