Valentine's Day is 20 days away… Ah!!! That leaves less than three weeks to prepare!

Chocolates, flowers… a special date!

But what if you lived in Regency times? What would you do then? Today I give you a special treat… A short continuation of

LADY SEDUCTRESS'S BALL

--Tristan and Olivia celebrate Valentine's Day together for the first time since exchanging vows…
Oliva sat upon the satin embroidered chase, Tristan had purchased for her bedroom, and stared out the window at another somber winter day. Snow covered the grounds nearly a foot deep, and ice crystals dripped in frozen lines along the branches of the trees at Knightley Manor. They hadn't been able to go outside for nearly three days and she was beginning to grow antsy.
Tristan was in his office working on paperwork, and she'd lazily slept in, with nothing better to do.
She leaned her head back on the chaise. What day was it? How long until spring? She yearned to go out in the sun.
With the realization of what day it was came another revelation—tomorrow was St. Valentine 's Day.
She bit her lip and drew her brows together.
Did Tristan celebrate St. Valentine 's Day?
Oh, what did it matter? They could start a new tradition, and she certainly needed a distraction from the ensuing boredom of remaining indoors while her husband worked. Not that their nights were boring—they were anything but. Passion filled Knightley Manor when the sun went down. Tristan knew exactly how to make her scream with delight, writhe with pleasure.
But the days were reserved for his work, and anything she might care to do. Away from the city, left little on the list when a foot of snow covered the grounds.
She alighted from the chaise and dug around in her trunk of ribbons and bobbles. She would make him a card, and she'd plan a lovely dinner. Could she entice him to come out of his study for the day? She nibbled the tip of her finger. It was worth a try!
Taking the ribbons and beads with her, she left her chamber in search of their housekeeper. It was time to seduce her husband away from his work!
The following day, mid-morning…
Tristan leaned back in his leather arm-chair, seriously considering tossing every bit of correspondence into the fire. He did not want to be working. He wanted to be in the arms of his Olivia—the woman he still could not believe was his wife. He was a lucky man. Fate had seen to that.
A whisper of paper caught his attention. What was that? He leaned forward, looking around his desk. Had something fallen? His gaze fixed on a colorful beribboned paper in front of his library door. Someone had slipped it underneath.
"What in Hades?" He stood from his desk and marched over to pick up the creation.
Olivia's jasmine and vanilla scented perfume wafted from the paper. Ribbons tied in bows with little bobbles dangling from their ends edged the sides.
Written on the center was this…
The rose is red, the violet's blue
The honey's sweet, and so are you
Thou are my love and I am thine
I drew thee to my Valentine
The lot was cast and then I drew
And Fortune said it shou'd be you
~Gammer Gurton's Garland
(1784):
A smile instantly etched his face. He wrenched open the door expecting to see Olivia standing on the other side, an impish smile on her face, but there was no one there. But there was another note…
Meet me in the drawing room…
He sucked in his breath. His wife had planned a seduction! His blood raged through his veins, and elation filled him. If anyone had ever told him he would be this in love, he would have laughed in their faces. With quick steps, he made his way to the drawing room.
But instead of Olivia, there was another note beside two glasses of champagne, almonds dusted with cocoa and sugar and his favorite honey cakes. He picked up the note.
My love,
Do you know what day it is? It is the day of love—St. Valentine's Day. Today we celebrate our love. Partake in the champange and treats while you wait in our special spot.
Olivia
Their special spot?
Tristan racked his brain… Then he knew exactly where she wanted him. He sat down on the chaise longue. Took a long sip of bubbly champagne and waited. Within minutes, Olivia crept into the room. She wore a silk wrap, and her hair was down around her shoulders just the way he liked.
"My seductress has arrived," Tristan drawled. He leaned back, his gaze raking over her.
"Mais oui, and I plan to show you on this special day exactly how much I love you, in the very spot we made love for the first time as man and wife."
Slowly she untied the length of silken cord and let the wrap drop in a pool around her feet. Tristan thought his heart might stop beating. She wore a knee-length nightrail made of light pink lace and silk—more lace than anything. Her flesh peeked through the lace, teasing him, igniting his ardor.
He blinked. Swallowed. Then beckoned her to come to him. Olivia took dainty steps, her hips swaying enticingly.
"Happy Valentine's Day…" Tristan said slowly as he slid his hands up her bare thighs.
"Oh, my love… You have made my life complete." Olivia sank onto Tristan's lap, her thighs straddling his hips.
Their gazes locked for several moments as emotions and desire heightened, thickening the air. But he could wait no longer. He claimed her lips in a searing kiss, his tongue gliding inside to taste the sweetness of her mouth.
And I leave the rest to your naughty imaginations
J
Eliza Knight is the multi-published, award-winning author of sizzling historical romance and erotic romance. While not reading, writing or researching for her latest book, she chases after her three children. In her spare time (if there is such a thing…) she likes daydreaming, wine-tasting, traveling, hiking, staring at the stars, watching movies, shopping and visiting with family and friends. She lives atop a small mountain, and enjoys cold winter nights when she can curl up in front of a roaring fire with her own knight in shining armor. Visit Eliza at
www.elizaknight.com
or her historical blog, History
Undressed, which was recently mentioned in a feature article in The Wall Street Journal.

www.historyundressed.blogspot.com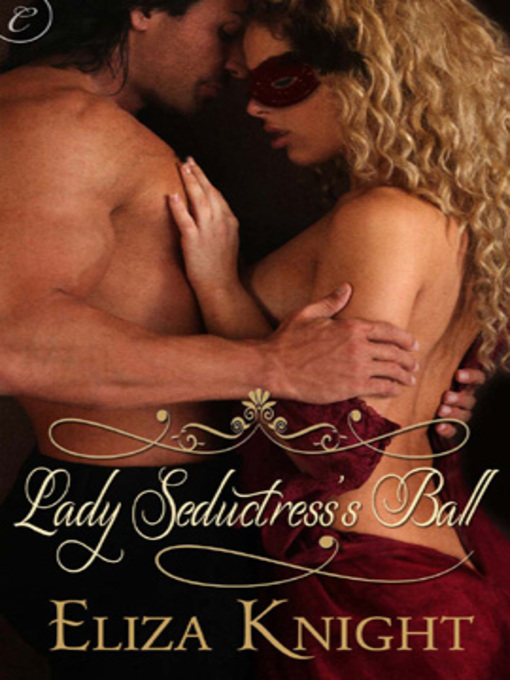 Invitation to Pleasure
As the wife of the elderly Earl of March, Olivia Covington has never known the intimacies of the bedroom. Though her curiosity is piqued by the shocking whispers of society ladies, she is too wary of causing scandal to indulge in an affair. But Tristan Knightley, Earl of Newcastle, tempts her to throw off propriety.
Tristan wants Olivia for his own, and has sworn off all others until he can rid himself of the obsession. He is sure once he has a taste, he will tire of her, and can return to his rakish existence. Unable to wait to have her in his bed, he invites her for a tryst at Lady Seductress's Ball...
24,000 words
Available now at

Amazon

,

Barnes and Noble

,

Carina Press

and other e-tailers.